Coming up as a kid, I was taught to brush twice per day, but I wasn't taught about the importance of flossing your teeth. I rarely if ever flossed my teeth at all throughout my younger years.
Unfortunately this bad habit followed me into my young adulthood. My teeth were pretty and white but my gums were red and bleeding. One day when I was about 23 years old I finally got the courage to go to the dentist after many years (I had a mild case of dental phobia).
"You've got gum disease," the dentist said.
The cold and uncaring dentist went on to tell me that I had to have a long list of teeth extracted and I burst out in tears in his chair. All of my worst fears were coming true.
After I left his office I dried my eyes and decided "heck no! I am not going to let him do that!"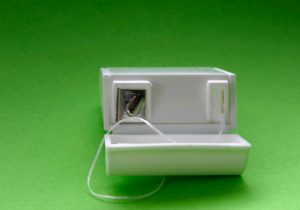 Dental School Saves the Day
I decided to go to a periodontist at a local dental school instead of going back to that first dentist. I like dental schools because they know all about the latest technologies and treatments. The head periodontist at the school took me on as a special case because what I had was rare — it's called juvenile periodontitis. Most people don't have perio problems until they are in their 50s or older. 23 was ridiculously young for this to be happening. It's something that some dentists believe is hereditary, as several of my family members had the same thing.
But gum disease is a condition that develops aggressively mostly due to lack of proper care. For 23 years I brushed my teeth diligently (which is why they were in good condition) but I almost never flossed! I went to bed night after night with food particles and soft plaque between my teeth. It's no wonder why bacteria continuously ate away at my gums and bone tissue. My periodontist told me on several occasions that flossing was crucial to the healing process and maintaining healthy gums.
Getting Treated
It took me a number of visits — root planings (deep cleanings) and eventually periodontal surgeries (scaling beneath the gums and bone grafting) to finally remove the bad bacteria. They healed my gums — I was even able to get braces to improve my smile.
Over a decade later I am so glad that I didn't listen to that cold-hearted dentist. I floss every day and my mouth feels great (pink, healthy gums, nice smile). I can't stress enough the importance of flossing regularly — dentists recommend a minimum of once per day (once after every meal if possible). It's one of the best ways to ensure a good report from your dentist at each visit.
One Last Tip — Good Diet Matters
Eating a good diet is also important to good dental health — drink a lot of water and eat plenty of fruits (green grapes are great) and vegetables (spinach and green leafy veggies) in addition to your regular dental visits.
Posted by Jasmine
Did you enjoy reading Flossing Your Teeth Is Not an Option, It's a Necessity (My Story)? Well we enjoyed having you and would like to be friends!
This post contains affiliate links.