For many years I enjoyed eating garlic knots when dining at my local Italian pizzeria. My love for a great garlic knot made me want to make them fresh at home for me and my family to enjoy with a variety of meals.
Garlic knots are a excellent addition when eating at home when combined with a tasty lasagna or spaghetti and sauce dinner. You can make your homemade garlic knots as big or as small as you want. I have even went as far to bring a large tray of the knots to a social gathering with a large side of store bought marinara sauce and received rave reviews from all of the guests. The best is when you add cheese to the top of the knot, just before you remove knots from the oven. I have used mozzarella cheese, Asiago cheese, Parmesan cheese, Romano cheese and they all gave the knots added flavor.
Here is my own secret recipe to having an awesome homemade garlic knot.
Ingredients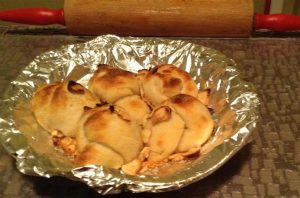 1 Bag of pizza dough ( found at most grocery stores )
1 Large jar of marinara sauce ( brand of your choice )
1 Tablespoon of garlic powder
1/2 Teaspoon of salt (more can be sprinkled to the knot when cooking is completed, if desired)
1/4 Cup extra virgin olive oil
1 head of garlic, thinly sliced
Instructions ( yields 16-20 garlic knots )
Preheat oven to 425-450 degrees Place your dough on a floured surface, covering entire dough with a light dusting of flour Pinch off a piece of dough a little smaller than a golf ball, repeat until dough is gone Roll dough on floured surface until dough is approximately 3-4 inches long (you can use both of your hands to elongate the dough). Tie each piece of dough, simply into a knot. Place knots onto a large non stick cookie sheet or use a non stick cooking spray on a regular cookie sheet.
Sprinkle the garlic powder and salt over entire sheet of knots. Drizzle your olive oil over the knots generously Place knots in preheated oven for 8-11 minutes Meanwhile, sautée the thinly slice head of garlic in a small pan with a little olive oil on medium heat. Sautée until soft (do not burn garlic!). On minute 5 of the baking process, pour the cooked garlic over the entire sheet of knots. Return to oven for approximately 3-4 minutes. Remove knots when golden brown.
Enjoy garlic knots by themselves or with your favorite marinara sauce. My family truly enjoys eating the garlic knots as an appetizer or as a part of a meal. You can easily add your cheese of choice to make the knot more filling. I have even enjoyed a few garlic knots with a side salad with vinaigrette dressing as a dinner. I once made a large batch of garlic knots ( too much to eat for the week ) and froze them in an airtight container. They actually lasted for 10-14 days with the same awesome results when baked.
You won't regret trying this recipe for Homemade Garlic Knots!!!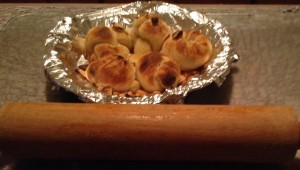 Posted by Eve
Did you enjoy reading Mama's Homemade Garlic Knots? Well we enjoyed having you and would like to be friends!
This post contains affiliate links.