Of course, as parents we all want to provide our children with a better existence than we had growing up. What I realized with raising my own three children, is that they all have different personalities and quirks. Therefore, they all required their own "style" of parenting from me. For example, my eldest child stated that she was unhappy, having to tend to her siblings after school until I returned home from work. We had several arguments/ disagreements on this issue between her and I.
I attempted to explain the reasons why I depended on her to watch her siblings, was most of all, financial. She replied, stating her most true inner feelings. She stated love for her siblings, yet, she felt that she had "no life". She made me aware of the after school functions she was unable to attend due her her responsibilities to her siblings. I took the night to think of all of what she had said to me.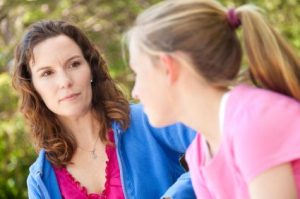 While rehashing the conversation in my mind that night, a sadness came over me because she was absolutely right! I awoke the next morning desperately wanting to apologize to her for my mistake I made as a parent. I went into her bedroom to speak with her before she went to school that morning. I expressed my sorrow to her for not realizing that the responsibilities that I had given her were severely overwhelming to her teenage life. I then told her that I had made permanent arrangements for after school care for her siblings. Basically, informing her that her services were no longer needed after school. She was now free to enjoy all of her after school functions and/ or just hang out with her friends. She had tears in her eyes and breathed a sigh of relief that I have never her from her before.
To conclude, as loving and caring parents our main goal is to ensure that all of our children experience the greatest childhood possible. As parents, we must learn to "truly" listen and absorb their inner most feelings with compassion. I have learned a life lesson from my eldest child that helped me with future decision making with my remaining children. The lesson of this blog is to let parents know that we can learn lessons from our children, if we listen to them.
Posted by: Eve
Did you enjoy reading Oldest Child Syndrome? Well we enjoyed having you and would like to be friends!
This post contains affiliate links.