One evening, I found myself staring at the chicken breast that I had on the on the cutting board, wondering how else can I prepare the breasts for dinner. You see, I was tired (the kids too) of grilling the chicken breast with seasoning and frying it with white flour. So, I opened my kitchen cabinet and exposed all the the breakfast cereal that I had at that time.
Eureka!! I found a sweet and crunchy cereal that I thought would be excellent with the chicken breast. I incorporated my past experience of preparing chicken, as I was taught as a teenager, by my mother and devised a recipe that my kids absolutely adored. I also, instead of just using ketchup, came up with a creamy honey mustard sauce with a kick, to dip the chicken breasts in. Check out this amazing recipe for Sweet And Crunchy Chicken Fingers — you will totally enjoy it if you appreciate sweet tasting foods. This recipe should feed a family of three to four.
Ingredients
Dipping Sauce ( make the sauce first )
4 Tablespoons of mayonnaise
2 Teaspoons of spicy brown mustard
1 Teaspoon of horseradish
2 Tablespoons of honey
Instructions
Combine all the sauce components
Mix well
Taste for sweetness
Place in refrigerator while chicken is being cooked
Ingredients
3-4 Pounds of skinless chicken breast
1 1/2 Cups of all purpose flour
2 Cups of sweet crunchy cereal
2 1/2 Teaspoons of garlic powder
1 Teaspoon of salt
1 Teaspoon of black pepper
1/4 Teaspoon of cayenne pepper (optional)
2 Large eggs
1/2 Cup of water
1 Cup of oil
Instructions
In a large bowl combine
Flour
Garlic powder
Cayenne (optional)
Salt and pepper
Place the sweet cereal in a food processor and pulse on low 4-5 times (do not want to make into powder)
Combine the sweet cereal and the flour
Stir with a large spoon to mix all together
In a medium size bowl combine
Eggs and water
Whisk together
On a large cutting board slice the chicken breasts into 1/4 inch strips
In a large fry pan add oil and turn on medium high heat
Once oil is hot you can now:
Take one chicken strip and lightly dredge in flour. ( shake off excess flour)
Place floured chicken strip into egg mixture. ( make sure strip is totally covered with egg )
Replace chicken strip in flour and totally cover with flour and place strip carefully into hot oil.
Repeat these steps for remainder of chicken breasts.
Turn chicken strip over to cook both sides of chicken strip.
Cook until golden brown
NOTE:
Chicken cooks fast, so do not let it burn or dry out!!
Serve your Sweet And Crunchy Chicken Fingers with dipping sauce on the side.
ENJOY!!!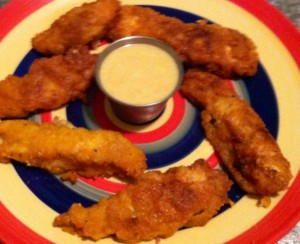 Posted by Eve
Did you enjoy reading Evelyn's Sweet and Crunchy Chicken Fingers? Well we enjoyed having you and would like to be friends!
This post contains affiliate links.