Over the years, it seems that families are not as close as they used to be. Here is a brief discussion of the possible causes of this unfortunate trend.
Families Don't Have Dinner Together Anymore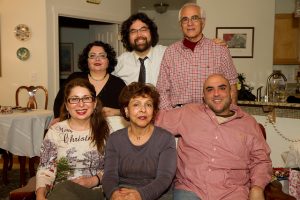 There was a commercial campaign on TVLand/Nick@Nite touting the importance of families eating at the "dinner table." The U.S. Chamber of Commerce initiated Family Day, a day to bring families together to eat dinner. This is because many families do not even eat together anymore. The TV and computer have become the most popular "dinner companions." We tend to multi-task while eating instead of focusing on our loved ones.
I believe this is a big reason why families are not as close as they were in prior years. Family dinner is a major bonding time for families that's supposed to happen each night. Forty years ago, it was almost unheard of for a family to eat dinner in separate rooms, but now it has become the norm.
Less Fathers in the Picture
Unfortunately, fathers have become less present and responsible in the lives of their families. According to statistics from the National Center for Health about 40 percent of children are born out of wedlock. It's estimated that a third of children in America are living in fatherless homes.
In many cases, the father is the strong gel of the family — he keeps everyone together and feeling stable due to his role as head of the family. But when a mother is left to raise her family alone, she is faced with the dilemma of needing to work more, and at odder times to accommodate her family's needs, even if she is receiving child support. Since the new head of household is home less, there is no one to "gel" the family and keep them bonded. Of course, this is also true for mothers who leave their families with a single father.
The Internet and Television
The Internet was created about thirty years ago. Since then, according to Internet World Stats, over 300 million Americans are active online as of 2014 (a saturation of about 85% of the population), and they spend an average of 23 hours per week using the internet. Most people are having a love affair with their computers that transcends the relationships they have with their families. Every free moment is spent surfing, working, or emailing friends. The ideal dinner for most people, due to their hectic, internet-ready lifestyle, is a frozen dinner and a plastic fork in front of their computer monitor or phone. Taking an hour out of their time to just sit with their family members is unheard of.
This is also the case with television. There has been an advent of more engaging television programs, such as reality television and serial prime-time programs, which have stories that continue from episode to episode. These programs leave people on edge and have them anxiously anticipating the next show, more so than they anticipate talking to and bonding with their families.
Family members, especially busy, working parents, and teenagers are spending less time with each other, due to computers, lifestyle and confused priorities. Let's spend more time loving our families and less time consumed with other minor matters that won't even really matter in the long-term.
Posted by Jade
Did you enjoy reading Are Families Not as Close as They Used to Be?? Well we enjoyed having you and would like to be friends!
This post contains affiliate links.