Many people find it difficult to imagine staying inside in the summer heat without an air conditioner running on full blast. However, there are ways to keep you and your home at a tolerable temperature without the use of an air conditioner for much of the summer (in certain regions). Even if you do choose to use central air or a window AC unit, these tips will help you save some money on your monthly electric bill.
Keep the Blinds Closed
First, if you have large windows in your home and have gotten into the habit of opening your blinds and curtains in the morning, DON'T. Opening the blinds and curtains allows the sun to penetrate and heat up your home. You definitely don't want to do that with or without an AC running. Keep all blinds drawn shut at the hottest times of the day. Doing this will help lower the temperature inside. Also, consider purchasing room darkening shades or heavy opaque blinds to help block out even more of the sun's rays. If you want sun rays to enter the home, only open the blinds on small windows.
Shut off Unneeded Electronics
All electronic devices emit heat. This includes your TV, refrigerator, computer, laptop, computer monitor, gaming devices and even your light bulbs. Obviously, you must keep the fridge plugged in, but what about everything else? For example, if your computer is in "sleep mode" it will still emit heat. Try shutting off ALL unnecessary electronic devices in every room in your house. Use low-watt energy efficient light bulbs (the ones that are spiraled). You can even go as far as unplugging the devices from the wall. FYI, your electric company, may in fact charge you for having items simply plugged into the wall, even when off. It's a minimal fee, yet, it adds up to money wasted.
Cover Your Seats With Cool Material
Cover your favorite sofa and seats with a 100% cotton cover or throw to keep things cool. Think about it — if you have leather or cloth furniture, your natural body heat will warm the seat and in turn raise your body temperature. The cotton fibers allow your body to remain at an more even temperature. It also helps tremendously if you take a cold shower before relaxing in your favorite seat.
More Simple Tips to Stay Cool this Summer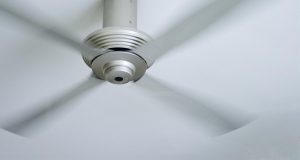 Here are a few more simple tips for staying cool this summer without an air conditioner:
1- Have plenty of ice cold water around you at all times.
2- Move at a much slower pace when home (what's the rush?)
3- Place floor fans facing the ceiling at the center of each room and turn on ceiling fans. Open the window (while keeping the blinds drawn).
Fans will keep the air circulating throughout your home and it will create a flow of air from room to room.
An air conditioning unit is a modern day luxury, but it isn't always necessary. Use these tips to enjoy your time indoors during the summer and not feel like your house is a sauna.
Stay Cool!!!
Posted by Eve
Did you enjoy reading Staying Cool this Summer without an Air Conditioner? Well we enjoyed having you and would like to be friends!
This post contains affiliate links.