Cats and dogs are wonderful to have in your home. They give you endless, unconditional love and affection through out their life span. However, if they become riddled with fleas, it can make you both miserable. Here are a few tips that can help prevent flea infestation in your home and on your pet.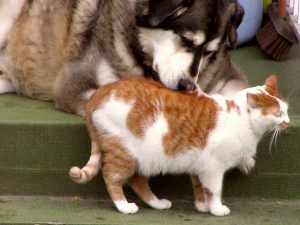 1- Check your pet regularly for fleas. You can easily tell if a pet has fleas by shaking their hair over a white paper towel and then running it under water. If the specks turn red, that is flea dirt (blood from biting your animal). In that case a treatment is needed immediately. Also, part their hair with your fingers to look at their skin for any redness, irritation or bumps. Definitely do this if you yourself are experiencing bite marks in clusters on any part of your body. Also, monitor your pet regularly for excessive scratching. The earlier you catch the problem, the easier it will likely be to control the situation.
2- After doing yard work or being exposed to outdoor cats, don't come inside with the same clothes on. Disrobe in your garage or another private area and change into something clean before coming inside. Even one flea can get on your pants and get tracked into the home. While you're doing yard work, spray your grass and nearby plant life with a pest control product to get rid of fleas outside.
3- If you are certain that your pet has fleas, do not use the cheap brand of flea killer. Invest in the high end, top of the line brand flea treatment for cats and dogs like Revolution. The cheaper brands (including cheap flea collars) may not kill the fleas with one application and will be a waste of money in the long run. Revolution can be difficult to find and expensive, but it is worth it if you want to keep fleas from infesting your home. I think they also offer Revolution at Vetco locations on the weekends (find out more at Petco). If you can wait about a week (not highly recommended if you want to prevent an infestation), you can order it from here. I've also heard good things about Advantage II for cats and dogs.
4- Add a brand name flea collar to your vacuum cleaner to kill any fleas that get picked up when vacuuming your floors or carpets. This will prevent your pet and home from becoming infested with fleas again. Simply remove the flea collar from the canister or bag when emptying contents into garbage can. The effectiveness of the collar should last for up to sixty days. It's preferable to have a vacuum with a tight plastic canister, as it will trap any fleas more effectively than bag vacuums.
5- Treat your carpets, beds, couches, and other surfaces where your cats like to relax with flea spray. I use a natural product called Natural Care Flea and Tick Spray (peppermint oil based and has a somewhat pleasant scent). It's also very effective against flies and mosquitoes. You can find Natural Care products at Walmart as well. If you don't mind using a chemical solution, try Zodiac Carpet & Upholstery Pump Spray. I've used it in the past and it is very effective in my experience.
Use these simple tips to treat and prevent flea infestation in your home so that both you and your pet baby can be comfortable.
Did you enjoy reading How to Prevent Flea Infestation In Your Home? Well we enjoyed having you and would like to be friends!
This post contains affiliate links.