Removing mold from a warm refrigerator (question answered).
Home Question from Twitter: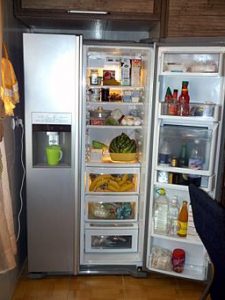 "@LovingOurHome can you pls suggest a way to remove mould from the rubber beading of my refrigerator door-switched it off during a vacation"
Answer Posted by Lorraine (how to remove mold on a refrigerator):
"I used 3 parts hot water and 1 part bleach to safely kill mold. Use a cleaning cloth to clean and saturate rubber. Repeat until mold is not present. Last step is to then use hot water to remove any excess bleach left behind. All done while wearing gloves and proper ventilation. The green way is to use vinegar and water. I believe bleach is much more beneficial to remove all the mold.
Also for weekly maintenance use white vinegar(in a spray bottle) and baking soda (will sizzle) to clean once a week for 2 weeks to totally eradicate.
Also recommend not turning off fridge. Warm air with no ventilation creates mold. Recommend turning fridge temp down while on vacation.
Hope this helps!"
Click here to share a home tip with LovingOurHome.com . If published we'll include your Twitter handle or website!
Did you enjoy reading Getting Mold off of a Warm Refrigerator (Question Answered)? Well we enjoyed having you and would like to be friends!
This post contains affiliate links.