Sleep paralysis, sleep texting, singing in your sleep and more.
Sleep is supposed to be a peaceful and relaxing time. It's the time of day (well, night) when your body finally has a chance to take a break and renew itself. But some people don't get a good night of sleep because they're too busy doing… other stuff. Here are some of the strange things people do when they're sleeping.
Talk (or Sing) in Their Sleep
Some people have full conversations in their sleep. They might be talking to someone in their dreams or giving a speech—who knows? One guy tells funny jokes when he's sleeping like he's a comedian on stage. When people talk in their sleep maybe it's because they have a whole lot on their mind and they want to speak out more, but they only feel comfortable doing so while asleep. Experts say that it can also be related to depression and stress. Generally it's a harmless behavior (unless you tell on yourself while your significant other is listening in).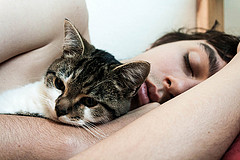 Some people have even been known to sing in their sleep—sometimes popular songs and sometimes it's an original creation. How cool is that?
Look Around at the Room but Remain Unable to Move (Sleep Paralysis)
There's a fairly common occurrence called sleep paralysis that causes people to feel as if they're awake yet unable to move. They feel as if they're being held down or prevented from moving by some unknown force. People often panic in this state because their imagination starts to run wild. They start to see things and become fearful.
The truth is that unknown "force" is your own body protecting you! The mind has partially woken up before the rest of the body. A paralysis naturally takes effect when you fall into deep sleep. I think that this is the body's way of protecting you from getting up from your bed and walking around (see the next section on sleep walking) while you're still asleep. The best course of action when you experience sleep paralysis is to simply relax, close your "mind's eye" and wait until your whole body wakes up (it usually only takes a few minutes, but the key is to relax). Pray for comfort and peace.
Sleep Walk and Sleep Eat
It's relatively rare, but there are cases where people walk around in their home and carry on normal activities while they're asleep. Some people get up at night to grab a late night snack, but don't remember it because they were sleepwalking and sleep eating.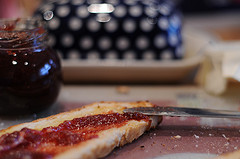 Sleep walking, also called somnambulism, affects between 1 to 15% of the population and is most common in children. It can be dangerous if a person is sleeping on the top level of a bunk bed or in a house with stairs, so it's important to take precautions.
Ironically, getting plenty of restful sleep is considered the best way to avoid sleep walking.
Grind Their Teeth
A lot of people grind and gnash their teeth at night (also called bruxism). It's a nasty habit that can actually be damaging to the teeth and jaw. Some people develop a condition called TMJ or temporomandibular joint disorder (inflammation of the joint that connects the top and bottom jaw) from grinding their teeth too much. They don't realize they're doing it until they go to the dentist. Simple dental devices are available to stop this from happening.
Text People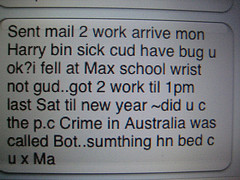 Cellphone use has become so commonplace in the modern world that some people have been known to send full text messages to their friends and family while asleep! They wake up, look at their phones and see a bunch of weird sent messages that could only have been written by someone having a strange dream. In one case, a sleeping woman sent an email setting up a special wine and caviar dinner (she must have really had this delicacy on her mind). If you think you might be susceptible to sleep-texting, you might want to turn your phone off at night or put it away in a drawer!
Wake up Hundreds of Times without Knowing It
Sleep apnea is a disorder that causes people to wake up dozens, even hundreds of times during the night, and in most cases they don't even realize that they're doing it. It's usually caused by a temporary blockage in the airway. When they wake up they're fatigued even though they had a full night of "sleep." Sleep apnea devices are available to stop this from happening (and stop the snoring that often comes with it).
Wake Up to a Dream within a Dream
Have you ever woken up from a dream (or so you thought) and carried on with your day, brushing your teeth, combing your hair and putting on your clothes, only to later realize that you were still in a dream? Waking up to a dream within a dream is a complex situation because you honestly believed you were already awake. Now you have to get up (for real this time) and do everything all over again! Sometimes it happens multiple times (a dream within a dream within a dream).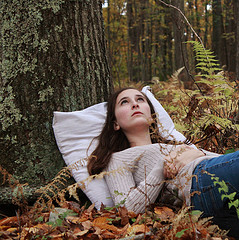 What weird things do you do in your sleep?
Posted by Jade
Photos courtesy: Flickr/sahlameche, Flickr/hejog, Flickr/sk8geek, Flickr/martinaphotography,
Did you enjoy reading Strange Things People Do When They're Sleeping? Well we enjoyed having you and would like to be friends!
This post contains affiliate links.