I came across a recipe for Summer-style Orzo salad on one of my networks and it looked delicious. Unfortunately, I didn't have any orzo and was missing a bunch of other key ingredients it suggested, so I improvised.
The result was this delicious Veggie Rice Salad with Black Beans. It is fresh, tasty and delicious. Perfect recipe to add to a summer meal (or good enough to eat by itself for lunch).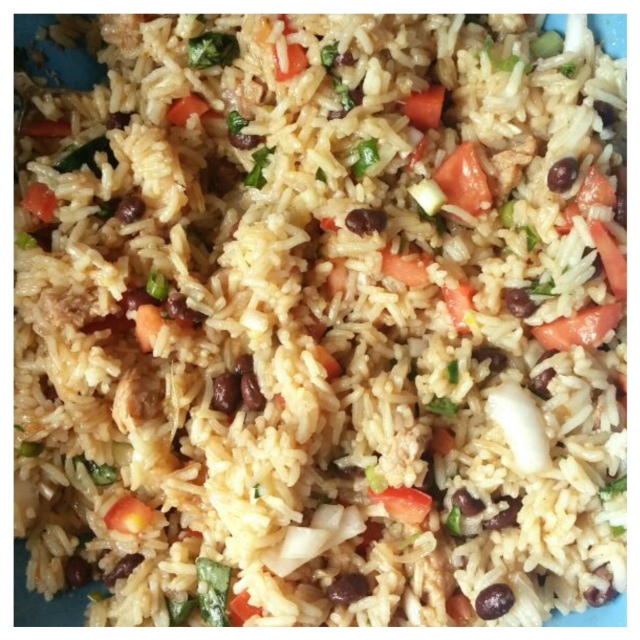 Ingredients
1 cup of rice
1.5 cups of water
3/4 of a chicken broth bullion
5 fresh basil leaves
1-2 chopped tomatoes (preferably Roma or grape tomatoes)
1 cucumber, chopped
1 chopped white onion
2 scallions, chopped
1/2 can of cooked black beans
1 teaspoon of Parmesan
1 fried chicken sausage, chopped (optional)
Vinaigrette Dressing
1/2 cup of olive oil
3 tablespoons of red wine vinegar
1 pinch of salt
1 pinch of pepper
1 teaspoon of oregano or Italian season mix
(Combine all of these vinaigrette ingredients into an empty water bottle and shake thoroughly.)
Boil bullion cube in water with a little olive oil. When it's boiling briskly, add rinsed rice and turn down to medium heat. Cover and let simmer until cooked.
Prepare all chopped vegetables (except onions) and herbs to the side and dump them into a bowl. Chop up onions separately to fry in a little olive oil in a small pot along with optional chicken sausage. Add half a can of black beans (or your favorite bean) on top of onions and cook, covered, on low heat for about 3 minutes.
Add a few scoops of cooked rice (the fluffier the better) to the bowl containing vegetables. Add gently cooked beans, onions and optional chicken sausage (chopped). Drizzle with some of the vinaigrette dressing and then add Parmesan. Sprinkle with a bit of salt to enhance flavor.
Toss in the bowl until thoroughly mixed — add more rice and dressing as you see fit. Eat warm or chill for an hour in the fridge until dinner.
Enjoy this delicious Summer Veggie Rice Salad with Black Beans!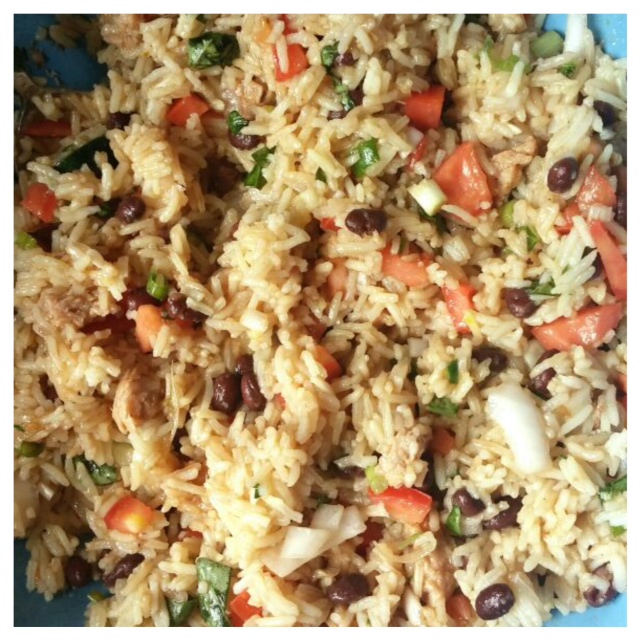 Posted by Jade
Did you enjoy reading Veggie Rice Summer Salad with Black Beans? Well we enjoyed having you and would like to be friends!
This post contains affiliate links.